Board of Directors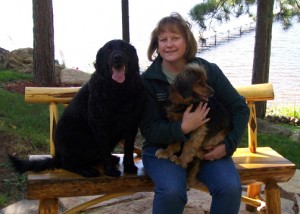 President, Muffy Guptill
I became involved with Northwoods Humane Society in 2010 when my son and I became dog walkers. Later, I became an adoption counselor, volunteer committee liaison, and most recently a board member. Dogs have always been an important part of my family and it is rewarding to help the animals at Northwoods find their forever homes. We are fortunate to have an animal shelter in our area that cares for and finds homes for our dogs and cats. It is important for our communities to support our mission through fundraisers, volunteering, and donations. I always feel like a better human being when I spend time with the dogs, cats, and people at Northwoods!
__________________________________________________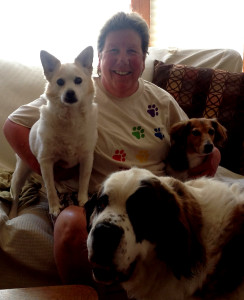 Vice President, Lynn Scaturro Walton
I moved to the Forest Lake area August of 2003, and passed Northwoods every day on my way home from work. We looked up their website and saw that they were in need financially and supplies were always welcomed. We stopped in to find out what was needed. We met the most wonderfully caring staff who showed us around and explained the needs of the facility. About three years ago we adopted our first rescue from Northwoods, and YES we have adopted three more furry children. My passion has always been to help any animal in need, and the mission and passion Northwoods has, to be the voice for these dogs and cats, matches mine. I am now retired and felt I could do more to help, so I applied for and was accepted to the Board of Directors.
__________________________________________________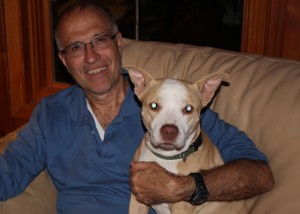 Treasurer, David Gorman
I moved to Lindstrom in September of 2012. In early 2013 I began to think about getting a dog and went on Northwoods Humane Society's website. There were many pictures of dogs and cats and I noticed NHS was in need of treasurer. I applied and soon was voted to be on the board of directors and the treasurer. I also started to walk dogs and recently I fostered a cat at my home; both are rewarding experiences. I have also helped out NHS in purchasing computers and act as a point person for overseeing their care. The people at NHS are talented, fun, kind, and a great bunch to work with. It is rewarding to see the progressive change in a pet that appeared to be unadoptable become the chosen pet of a caring family!
__________________________________________________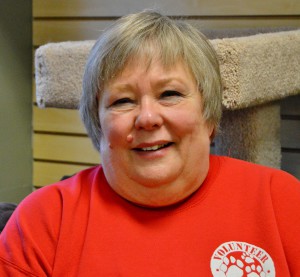 Director, Vicci Mattsfield
I retired from a 30 year career as a computer programmer for the railroad and was looking for someplace to volunteer my time. Because I have always had dogs and cats, it was a small leap to pick Northwoods as the place to volunteer. I started at Northwoods right after the building opened in 2000 as a dog walker, before the back fences were there. Then I became a morning cleaner for a few years. For about 2 years I was the Volunteer Coordinator and I was also the Treasurer for 5 years. Then I had to retire for good but I still wanted to help with the animals, so I became a Board Member and an Adoption Counselor.
__________________________________________________
Director, Britt Zimmel – photo and bio coming soon
__________________________________________________
Director, Kristine Hildenbrand – photo and bio coming soon
__________________________________________________
Leadership Team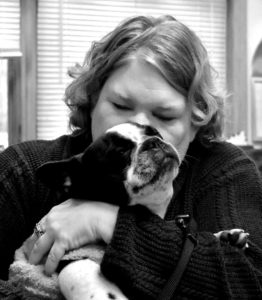 Executive Director, Renee Rude
I came to Northwoods in 2016. For the first 18 years of my career I worked at the Science Museum of Minnesota. But animals (my own and everyone else's) were my passion! When my position at the museum was eliminated and there was an opening at my local humane society (the one where we'd adopted our pets while I was growing up), it was a no-brainer for me; this was what I was meant to do! Ten years of humane society experience and I was ready for a new challenge. Luckily, Northwoods was looking for a new Executive Director. Every day, I'm struck by how much compassion and commitment the volunteers and staff here at Northwoods have for the animals in our care AND the support we receive from the local community! Being able to work with and for animals everyday is wonderful but getting to do that work side by side with so many great humans makes it even better.
__________________________________________________
Shelter Supervisor, Rachel Beduhn – photo and bio coming soon
__________________________________________________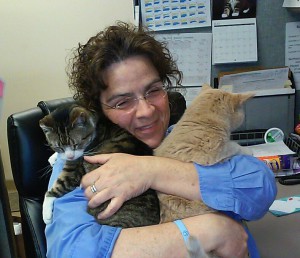 Volunteer Coordinator, Debby Brunette
I started as a dog walker for Northwoods in November of 2000 and switched over to an adoption counselor about 6 months later.  Around April of 2010, I was very excited to be able to start working at Northwoods part-time as the volunteer coordinator and have enjoyed this position and all aspects of helping out our animals and volunteers ever since! About 8 years ago, I added fostering to my volunteer duties and found what I feel to be a major purpose and passion in my life!  I feel honored and privileged to be able to open my home to all the animals in need and find a huge satisfaction in helping them become loving family pets who eventually find the best home for them. I've always loved animals from the time I was very young so I'm very proud to be a part of Northwoods and share in the values and mission of caring for and loving all animals in need and helping them during this transition period in their lives.
__________________________________________________
I was born and raised in the great state of Tennessee. I married a U.S. Marine in 1988 and traveled this wonderful country of ours from duty station to duty station. When my husband retired in 2008, we decided we would make his amazing home state of Minnesota our final duty station (home).
I came to Northwoods Humane Society through a friend. It has been one of the best decisions I ever made. I have always loved animals and it is a joy and a privilege to work with such a devoted and caring staff and volunteers.